I just experienced the Friday Night Lights of Oak Harbor football.
I haven't been to an Oak Harbor game in over 20 years. 
I wonder what had changed?  I wonder if it was like I remembered it? 
There was a time, that Oak Harbor felt Friday Night football was the center of their existence. The starting players would have signs
with their names in their front yards.  The players spent the whole day wearing their jersey around school and counting down the periods until school was finally over so they could focus strictly on the game.
The players knew that growing up in Oak Harbor meant they were born and raised for those Friday night lights. Seemed like every kid would dream of the day when they would play under those lights.
Players didn't take anything for granted because they knew the history of what teams and players had done for Oak Harbor in the past and the players didn't want to let the town down! All players who ever put on that Rocket green helmet knew who they were playing for: their teammates, the school, the town, and all former Rockets that ever wore the uniform.
The cheerleaders decorated the players lockers, paying close attention and doing a little more for the senior football players. There were pep rallies and booster clubs and cross-county rivalries.
A lot can change in 20 years.
I pull into the parking lot and slowly get out of my car.  There is something that is always uncomfortable about walking into a football game by yourself.  It's like there is an unwritten expectation that you go to the game with someone else.  
I am alone and I feel self-conscious.
It's October. There should be a chill in the air but there isn't.  I expected the school colors of Christmas Red and Christmas Green to be draped all through the stadium and everyone standing shoulder-to-shoulder, like I remembered the games in my memory.
I hear the band playing.  The band starts to play the Oak Harbor "fight song" and
suddenly I am adrift in nostalgic familiar territory.  I stop and listen and I am surprised that words come oddly back to mind easily…
"We're loyal to you OH High…"

I watch the band march off the field to same drum cadence that has been the signature of the band for as long as I can remember.
"O-H-H-S… O-H-H-S… Rockets!!!"
I make my way along the front of the stands.  My brother and sister are somewhere in the crowd.  They are here for their class reunions.  For my brother, his 45th.  My sister she is back in town for her 40th reunion.  Now my brother has only missed probably 7 or 8 games of Rocket football since the day he graduated all those years ago.  He is walking history book of knowledge.  He knows and remembers all of the players, the teams and their stat history. For my sister, this may be the first football game she has been to since she walked off the field on her last game as a cheerleader her senior year.
I find them with their respective classes in their designated seating so that they can sit together and talk about old times and watch the game together.  I am keenly aware that I don't belong to either of these classes.  But I wedge myself into a seat among them and suddenly I am an imposter. It feels like everyone's staring at me.  Each alumni from the class of 1971 and 1976 trying to figure out who I am. 
A face they don't remember.

My sister reminds a few people who I am sitting with, that the person who has crashed their party was her "little brother" and for some, a vague sense of recollection comes to mind.  I am sure they found some relief in knowing that I wasn't someone in their class that they totally did not remember. 
The game has already started, but I can't follow what's happening on the field.  The sun has long set, but the lights are so powerful that it looks like the type of daylight I often experience in dreams.
Surreal. Metallic. Unforgiving. 
Friday Night Lights.
I am sitting in the midst of a group of people who are themselves trying to reconcile their memories of the past to the reality that is surrounding them.
I am no different.
My mind starts to drift off… suddenly it is 1973.
It was the first day of football practice – I was late.  
I began to panic. 
Maybe I'd come on the wrong day! Maybe I'd come to the wrong place!  Every time I would open a door, there was another hallway.   I couldn't find the coaches – I couldn't find any of the other players. 
And that's when it hit me,  this was Jr. High School.  The transition from elementary school to Jr High was a BIG deal to me.

And I… was completely…  and utterly… alone… and on my own.

It was 1973.  
It was a crazy time. Nixon and the Watergate scandal were the headlines and people were on the move… asking new questions… looking for answers.
People were breaking in new ground and wanting a change.
Seemed like everyone I knew was searching for a new identity. Including me.
That September, I entered Rocky Ridge Junior High.   I was looking forward to new adventures.  I wanted to start my 7th grade year with a bang. 
After my summer baseball season ended on a sour note and I was clearly given the sign from the ba
seball gods above that my dreams of being a baseball player were now dashed upon the rocks of reality. I was looking for new opportunities. I wanted to play sports, but not just any sport but the sport of football to be exact.
I had always idolized the high school football team.  I would always think about what it would be like to play in front of my friends and family.  Playing on Friday nights, in the glow of the bright lights that would spotlight hometown heroes and legends.
I spent many Friday nights watching the game from the railroad tracks that ran along the west side of the field. 
I would wait patiently until halftime and then they would close up the ticket booth and we were free to enter into the game.  For me, Oak Harbor's football stadium at the corner of Church and Walnut will always be considered hallowed ground and it's the players and teams that made it special.

The Jr. High football team changed at the high school on Church Street and after running down every hall of the school, I finally found the locker room and went in.
To say that they were less than pleased to see me come into the locker room more than 10 minutes late for the first day of practice is an understatement.  For what it's worth, it did get me noticed.  Linda Lee's little brother.  More importantly,  I gave the coaches a face of the one person they would ride and harass  for the rest of the season.
I survived that first day and at the end the week, the coaches called out my name and they threw me
my new football jersey.  Christmas Green…with the number 80 blazoned in white on the front and in the back.   I was now officially a member of the 7th grade football team for the Oak Harbor Rockets. 
I was so proud.
I had not even put on a pair of shoulder pads and here I was strutting around in my football jersey.  We were told to wear the jersey to first day of school and I happily complied.  I remember walking through the doors that first day of school with my bright green jersey on.  I was way too cool and I remember walking about two foot off the ground.
I had no clue of what I was going to face in the coming days.
Considering the fact in 1973, I was a smidgen over 5 foot tall and weighed all of 65 lbs. I should have been keenly aware of what I was about to face.  We were lined up in the hall outside of the equipment room and waited for our turn to be called in to be fitted.  I was so excited.
Names were called and I waited patiently.  I was among the last 5 or 6 players that were called. When I was finally fitted with my equipment, I realized that something was different.  Before I ever stepped onto a field with football pads on, my fate had already been determined.  While the bigger kids and those who had families that had special ties to the school received newer equipment, I was given football pads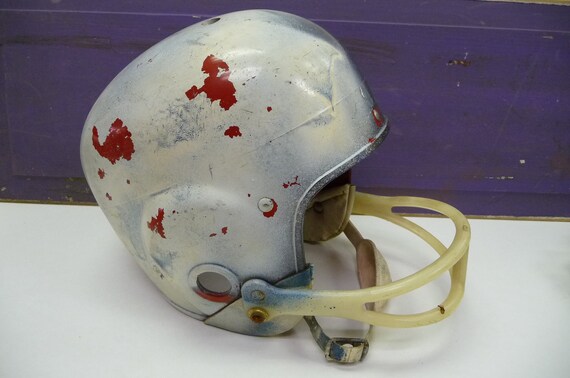 that were straight out of the 1950's.  My way too large helmet was commonly called a "monkey ear helmet" because of the protruding ear portion of the helmet. 
"That will work!!!" my coach declared, as he slapped the side of my monkey helmet.  The helmet spun so far that I was now looking out the earhole of the helmet.  But all my thoughts and concerns were about one day playing under the lights on a Friday night.  So I straightened out my helmet and made my way to the door of the locker room.  
I almost made it out when I was stopped because a father was in a heated argument with the coach about the inept, outdated and unsafe equipment his son had been issued.  A few minutes later that son would emerge with nice, appropriate equipment with a rounded safe helmet like the Varsity players wore.
I didn't have a dad that did those kind of things.   I was completely and utterly alone and on my own.
Still I was proud.  I was starting my time playing football.  I wasn't going to let inept, outdated and unsafe equipment get in my way.  I did learn quickly that running around with all these pads on was much different from what I was used to when the guys and I played backyard football in Blakely's yard.  This was going to take some time to adjust.
For the most part, I survived the first few practices by being pretty lucky and besides the prodding from the coaches I stayed out of the line of fire.  Then the fateful event happened.  We had a football drill called "hamburger"which basically is a drill where two players lie on their back with their helmets touching.  On the coach's whistle, both players get up and run back four yards in opposite directions, where one player takes a handoff from one coach and the other slaps the hands of a waiting coach.  At that point, they turn and run at each other. The  player with the ball tries to run through the tackler and the tackler tries to bring the ball carrier down.  After the tackle is made, each player moves to the back of the line as all players take part in this drill.
I took my spot in line and as I got closer to my turn to participate in the drill, I looked across to the other line to see who my competition was going to be.  I really wanted to make a good impression on the coaches and I wanted to make sure I was matched up with someone my size and if luck would have it, maybe even someone smaller than me.   So I watched to see who was going to line up against me.   I saw that it was someone who was bigger than me and I started to shuffle my way a spot further back in line where I would be matched with someone my size. 
I got to my preferred place in line when I heard the loudest whistle I think I have ever heard.  Then I hear my coach screaming out my name, "LEE… front and center!!!"  
I had been caught cutting the line… which was a big no-no.

He grabbed me by the facemask of my "monkey ear helmet" and proceeded to pull and drag me back and forth in front of my team.  All the while using me as an example as to what a player was not supposed to do at practice.
After the verbal tirade and personal humiliation, he finally drug me over to the spot where I would have to carry the ball.  He made me lie down at the spot and I hear him talking to other players but I cannot hear what he is saying.   I hear the whistle and I jump up to take the hand off from my coach.  Everything is good up to this point and I take the hand off and I turn to run the ball through the defensive player.   Here is when things start to go south, because it is then I see him.
Earl Kashmere… that's right and he was a monster.   Earl Kashmere was Mr. Football of the Oak Harbor Junior High.   He was no less than a foot taller than me and he was about 100 lbs. heavier as well.   Earl was just staring at me, waiting for the kill and I thought just before he hit me that I saw a glimpse of a
small smile come across his face. 
I had never been hit so hard in my entire life.  My body went completely numb and I saw stars, once again, through the earhole of my helmet.  I remember hitting the ground and as all the air rushed from my lungs so did any current desire to play football.  
I never told my family what happened. I am sure a law suit by today's standard.  Coaches got away with that sort of thing back then.  I didn't have anyone to tell and I surely did not have  helicopter parents that protected me.  I would have been just told that it would build my character.

Have you ever known those moments that changed your life?    Do you remember a specific time, a special event that was life changing for you?  I think it happens to all of us, I know it happened to me on that day.  I suddenly realized that I wasn't good enough.  I didn't quit.  I stuck it out for the season.  I wanted to play, but I just wasn't good enough and so I finished the season and the dreams I had of Friday Night Lights faded off into the distance.

Profound moments of life are not all good moments. 
So my football career was short-lived and I never played football again for the Rocket's.  
That was over 40 years ago.  I think I am finally recovered from the pain endured on the practice field that day. 
The game tonight is coming to close.  The Rocket's once again are victorious.  The Friday Night Lights once again protected by the dedication, blood, sweat and tears of young men that are just trying to make their dreams come true.
I make my way out of the stadium. The lights still burning bright in the night.  My thoughts drawn to how I don't feel part of it anymore and as I open the car door to get in and head home, I can't stop thinking about that picture of me in that Christmas Green football jersey.
I smile and I wonder whatever happened to Earl Kashmere.