It was 5:30 P.M. on a beautiful Tuesday afternoon in Ohio. I am driving home from my meeting in Columbus.
I just can't find any music that I want to listen to, so I finally stop on a radio station that is playing a program called, "Turning Point" by David Jeremiah. 
(Want to Listen to Turning Point? Click Here)
I have always enjoyed listening to Dr. Jeremiah. He has been able to challenge and encourage me every time I hear him speak.

I listened to him for about 30 minutes when the program ended and the radio station started playing a few songs before it transitioned into the next program.

And then, the station played an old hymn of the church.
What a friend we have in Jesus, all our sins and griefs to bear.

What a privilege to carry, everything to God in Prayer.

O, what peace we often forfeit, O, what needless pain we bear.

All because we do not carry, everything to God in prayer!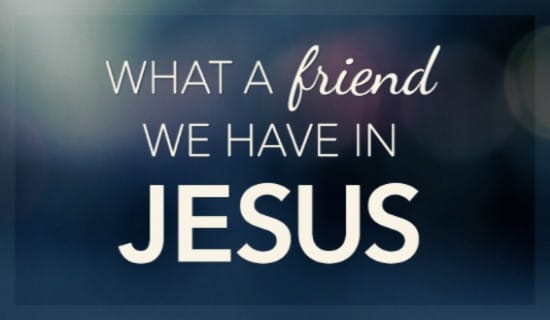 All of a sudden, tears began flowing down my face as if a dam had broken inside of me. The tears kept rushing down my face uncontrollably. It had been years since I had heard this old hymn of the church, and I soon began to realize that I was remembering times in my life.
The first memory took me back to the age of ten years of age when I accepted the Lord into my life at the back of Robinson's Funeral Home in Oak harbor, Ohio.  I literally could visualize myself sitting with my Aunt Brenda as she explained to me the gift of salvation that Jesus provided for the world.
These memories continued as the song filled the cab of my pickup truck. As the song progressed, I moved from thoughts of being that little 10-year-old boy into a grown man, encountering all over again situations and circumstances of my life that I had, in deed, taken to the Lord in prayer.
The memories spanned a good portion of my life ended when the song ended, and I was still wiping tears away from what I had just experienced in a 3-4 minute time span of the song.
I

t was enough time to remind me of the faithfulness of God to answered prayer when I, had indee

d, taken everything to Him in prayer.
It was also a reminder to me that I needed a cleansing of a coldness that had settled in my heart recently. I was so grateful that all my sins and griefs he was now bearing once again, as I sat there silently confessing them to Him. How refreshing those tears felt as He gently cleansed me.
It was a time when I reflected on the peace that I had forfeited at times when I didn't take it to the Lord in prayer. Oh yes, there were many times that I had experienced needless pain.
As I made my way home, I realized that this old hymn of the church had, shall we say, re-fashioned me on the inside.
What about you?  Why not take a moment in your day to listen to this old hymn of the church and use it as a tool to once again be reminded of What a Friend We Have in Jesus.  ( Just click on the video below.)

After all, He calls us His friend.
I no longer call you servants, because a servant does not know his master's business. Instead, I have called you friends, for everything that I learned from my Father I have made known to you.  (John 15:15)