Never in my life did I think I'd learn a life lesson from a garage sale.
Once a year, some good friends of mine have a huge garage sale. This summer event was always one of the highlights of the year for them. They would always ask me if I
wanted to bring things over to sell and I always said no. But that year they were persistent and I finally decided that I was going to sell some "stuff" that was taking up space at my house. 
The garage sale was amazing… the driveway was lined with tables that were on display with all of the things they wanted to sell.  Lots of sunshine, and lots of foot traffic. It was nearly perfect – except for the garage.
The garage was dingy, even after we cleaned it. The lighting was gloomy – the paint, uninviting. It wasn't a space you'd want to hang out in. Unfortunately, that was where all my "stuff" was laid out. The sale was so big we had no other choice but to fill the garage with all of the things that could not fit on the tables that were out front.
Over the next two days, hundreds of people shopped the sale, buying dozens of items. But through it all, the garage remained untouched. I didn't even see anyone lingering around them. It was so strange to me. I would have thought
they'd have been among the first things to go.
I was puzzled, but I began to reconcile myself to the thought that they just weren't going to sell.
Towards the end of Day 2, the tables out front began to look picked over, so we decided to move things around. We cleared out the garage, pulling everything out into the sunshine and on the tables out front.
And that's when it happened.
Not even minutes after we moved my "stuff" to the new location, a young couple stopped, looked at each item carefully and then chose one to buy a few. Within thirty minutes, more things sold. And then another – and another. In less than two hours, shoppers had bought all of my stuff.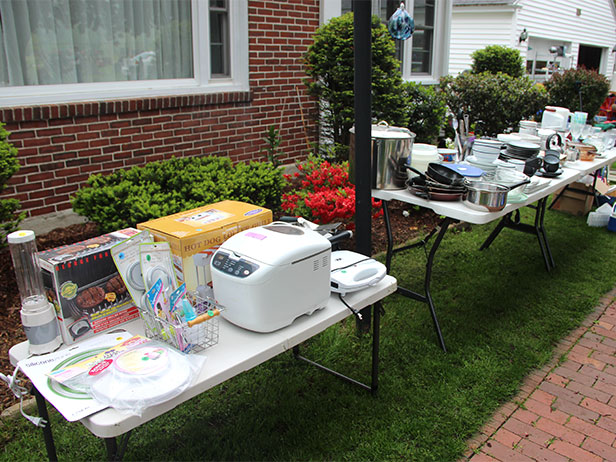 It blew me away. They went from worst to first in the blink of an eye! Really? Why?
They were no less valuable or capable – no less good – in that garage. Yet hundreds of shoppers just passed them by. They overlooked them, distracted by what they felt in the ugliness – eager to get back out where it was sunny and bright.
The shoppers needed the opportunity to see my "stuff" in a different light. And once they did, it made all the difference. They saw the value and they wanted it.
There's so much to learn here. On the surface, of course, it's a lesson that presentation matters more than we think. If we want to sell something – if we want to sell ourselves, it's up to us to present well. We can't expect people to buy in – even if it's a no-brainer – until we do.
But there's something more valuable here.
The thing that has stuck with me is how resigned I was that it was over. I was totally convinced that my items weren't going anywhere. I'd accepted it. I mean, if they were, it would have happened already. There had been plenty of opportunities, but no interest. So, I was absolutely shocked to see them succeed so easily after such a small tweak. I mean, I literally picked them up and moved them 20 feet.
But with that one small change, what was unlikely became possible – and what was possible became reality.
Where else could that be true for you and me?
Is our fate sealed, or is life waiting for us to not have our minds quite so made up?
Is it possible that a simple change could have a profound effect?
What if we took a look at things in a different light?
Perhaps our work could be more fulfilling.
And our friendships, more meaningful.
What if our marriages could be saved and even thrive?
What if we could make a great impact on the world around us?
Maybe we already do and just don't see it.
Is your mind already made up?
Are you convinced of the outcome?
Do you know what you know?
Are you sure?
Looking at things in a different light might make all the difference in the world.